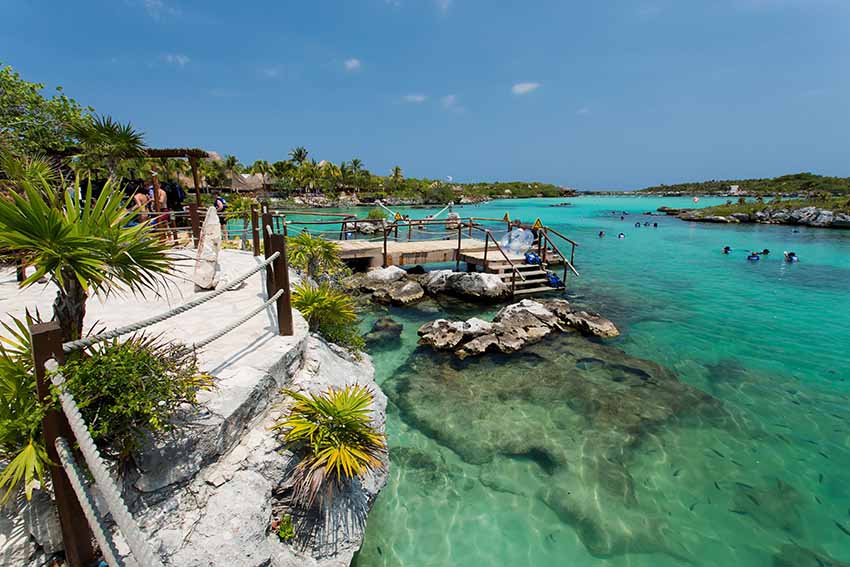 Embark on an aquatic adventure. Explore creeks, mangroves, lagoons, natural wells and ancient caves fed by subterranean rivers flowing to Mexico's beautiful Caribbean Sea. Learn, rest and participate in the world's most beautiful natural aquarium, Xel-Ha.
Xel-Ha means 'where the water is born'…
The story is that the Mayan Gods gave Xel-Ha to mortals. Guarded by the symbols for Parrot Fish and Iguana representing wisdom, illusion and love are the historical elements representing the Park's natural beauty and its role as a cultural and religious center.
In pre-Hispanic Mexico, Xel-Ha grew to become a port and commercial zone for the privileged and safe harbor for seagoing merchants.
THE PARK
Xel-Ha's main allure is its awesome aquatic attractions. There is also a trail [Path of Conscience] that leads around the park taking you through the jungle. You see lots of iguanas on this trail.
Enjoyable park features include; Hammock Island, the Mayan Cave, Mangrove Chaac, Bay of Caprices, the Mayan Wall, Grotto Ixchel and Grotto El Dorado.
Other notable attractions are:
Tree Nursery
Apiary
Turtle Camp
Cenotes
Xel-Ha River Float*
*The Xel-Ha River Float is an adventure that you don't want to miss.
The Beach
A natural refuge, the Beach offers 300 yards of incomparable ocean view. A barrier reef creates a calm, natural saltwater aquarium for swimming, right at the foot of a light house. Mexican palapas provide cooling shade.
Spa Esalem
Revitalize your body and spirit. There's nothing like a massage to recharge you. Xel-Ha's exclusive massages can relax and refocus you. A wonderful way to start or end your day at the Park.
XEL-HA ADVENTURES
Snorkel
Submerge in the amazingly blue, warm and crystalline waters of the Xel-Ha inlet with your snorkel equipment and you will have an unforgettable encounter with colorful fishes and exuberant flora.

Snuba
Snuba is a combination of snorkeling and scuba – and it lets non-divers descend safely into the reef zone without breath-hold diving. A compressed air tank floats on the surface, the snuba diver breathes through a safe and easy to use regulator below the surface.

Sea Trek
Step into a world of fish — the biggest and most splendid in the Park. This new take on helmet diving is safe and enjoyable – and you won't even get your hair wet.

Aquaventura
Xel-Ha guides lead participants on an adventure to the best sites in the Park. For novices and experienced snorkelers alike, this multi-level experience in the marine ecosystem is an eye-opener.

Dolphinarium
Experience the Xel-Ha Interactive Dolphin Swim. As part of the Xel-Ha educational program, the Dolphinarium and its six resident dolphins.
XEL-HA RESTAURANTS
Xel-Ha abounds with culinary delights. There is the Caribbean Restaurant with a spectacular view of the cove and incomparable live marimba music and serving an International Buffet.
México Lindo Restaurant and La Cocina del Pueblo serve delicious Mexican appetizers and specialties.
You can get fast-food at:
La Terraza (The Terrace)
hamburgers, hot dogs, tacos
La Parrilla (The Grill)
Fast Food with a variety of beef cuts: Arrachera (beef skirts) New York and Sirloin.
Natura Deli (Nature's Deli)
Fast Food with a variety of sandwiches, hamburgers, hot dogs and juices.
Nevería del Pueblo (The Village Ice Cream Shop)
Right beside the La Cocina del Pueblo (The Town Kitchen). Delightful hand made ices and ice creams. Refreshments.
Bar del Puente (The Bridge Bar)
Well stocked bar with national and international favorites.
Las Neverías (Ice Cream Parlors)
There are two Ice Cream Parlors, one at the park entrance, and the other right beside La Cocina del Pueblo.
XEL-HA SHOPPING
There are a number of stores at Xel-Ha selling everything from the famous Xel-Ha T-Shirts to Mayan crafts.
You can find film, batteries, pens, souvenirs, calendars, books, videos, aromatic candles, stones and crystals, and a full line of spiritual, beauty and health products.
GETTING TO XEL-HA
Xel-Ha is located 122 kilometers/76 miles south of Cancun off of highway 307 on the coast side.
From Tulum, The Park is a brief 13 kilometers / 8.1 miles.
Xel-Ha is open from 9:00 to 17:30 hrs.
To get to Xel-Ha you have four options:
Book a Tour [pick-up and return to your hotel/resort]
Rent a Car
Take a Taxi
Take a Colectivo
If you take a collectivo to Xel-Ha you get off on the highway at the Xel-Ha sign. The collectivo driver will know exactly where to let you off so just tell the driver "Xel-Ha" [shell-ha].
NOTE: After 7:00 you cannot take a colectivo and must use a taxi or rental car.